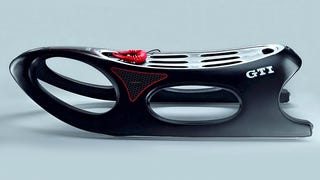 Every few years Volkswagen focuses its design expertise on sleds instead of cars. And this year they've introduced a couple of new offerings, including this sleek Crazy Bob sled featuring Golf GTI branding.
At the risk of sounding like an old woman, I really despair about the youth of today. Sledding off the top of a building, attached to a bungee cord? These Ruskis have a death-wish. [The Daily What via DListed]
Let's say you've got a kickass sled and plenty of snow, but no nearby hills to plummet down. Are you thinking what this guy's thinking, and tying your sled to the back of a fast-moving train? Please don't!
When you go to pick out your Slegoon for that next killer run down the mountain, be sure to pick a color you like, because you could be living in it for a while. Underground. Like, because, you'll be dead and it's your coffin! Get it?! Anyway, the Slegoon here is the winning entry in the UK IOM3 Design Innovation in…