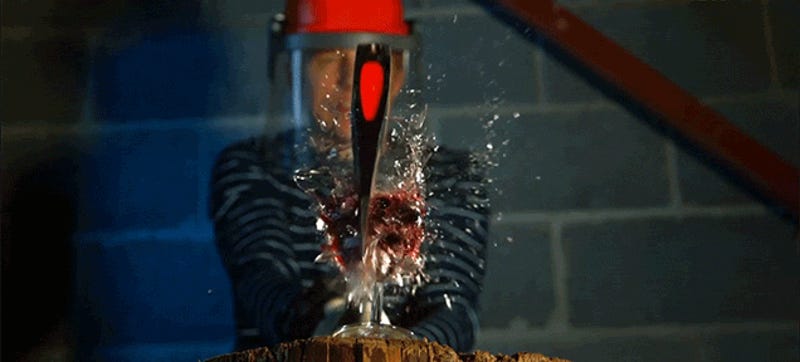 I now know that there are two acceptable things to do with a glass of wine. The first one, obviously, is to drink it so you can get another glass of wine. The second, even more obviously, is to chop smash the hell out of it with an axe. The shattering effect is spectacular in slow motion, especially when combined with…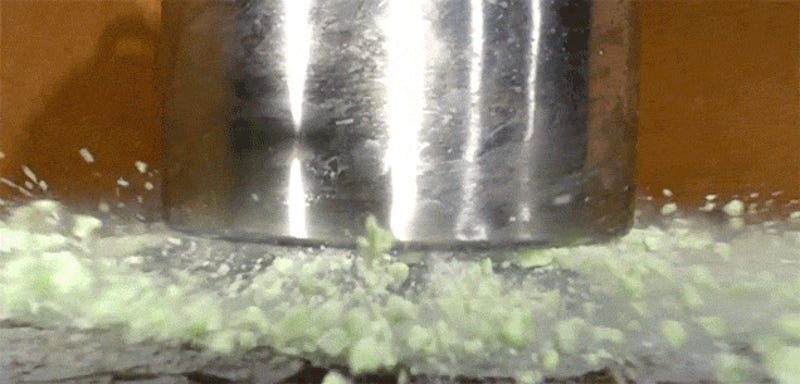 Crushing Jell-O with a 83.5 pound weight is okay, I guess. The colored gelatin laser oozes itself out like a ring of slime and gets everywhere. What's way cooler is smashing liquid nitrogen cooled Jell-O. That delivers a perfect shattering effect, like watching a planet get destroyed or flying through the asteroid…
This 100,000-pound crane was removing a tree when the tree broke loose, sending the crane's massive boom down onto the owner's house, smashing it like a Play-Doh sculpture. Check out the carnage in the gallery below. [SFGate]
Oddly enough, a website called iPhonedummy.net is selling realistic looking but completely non-functional iPhone dummies for $20 apiece. As stupid as that sounds, there are a million and one uses for this thing.
Despite the supposedly game-changing motion controls that the Wii brings to gaming, a good portion of AAA games use the Wiimote in the more traditional controller sense. How do you make the one-handed controller more comfortable for two handed play? By shoving it inside a body that adds an "analog" stick and two…
A new prototype device developed by Raytheon Co. can bash through concrete walls like nobody's business. Plans for the 100 pound Controlled Impact Rescue Tool, or CIRT, will place the device in the hands of firefighters, military personnel and search teams as part of a program developed by the Department of Homeland…
The first teaser trailer for the Incredible Hulk movie comes out Wednesday night, and here's a 15-second sneak peek. It's brief, but it does show a brief bit of HULK SMASH! goodness, and Norton comes within a hair's breadth of saying "You wouldn't like me when I'm angry." Check back late on Wednesday for the actual…
What happens when you smash a super-thin OLED display with a hammer? Last week, Wilson and I learned all about OLEDs, but after our factory tour we were left with that one nagging question. Lucky for us, mystery solved, as UDC has the answer courtesy of this video demonstration. Personally, I'd like to see this test…
Remember those rumors that Wal-Mart was going big in HD DVD and ordering 2 million cheapo Chinese HD DVD players? Yeah, that's not so true. Fuh Yuan, the company supposedly taking the orders, just posted a correction regarding the orders, saying they "had not received yet." Wal-Mart just asked them for a cost analysis…
Yesterday we posted a Weird Combo of the Day that offered a $15 iTunes card free with the purchase of a Zune. Later, we even had a "tip" from a CompUSA "employee" with a "screenshot" of an internal "memo" referencing the "incident" about the "deal" and yes I like "quotes".