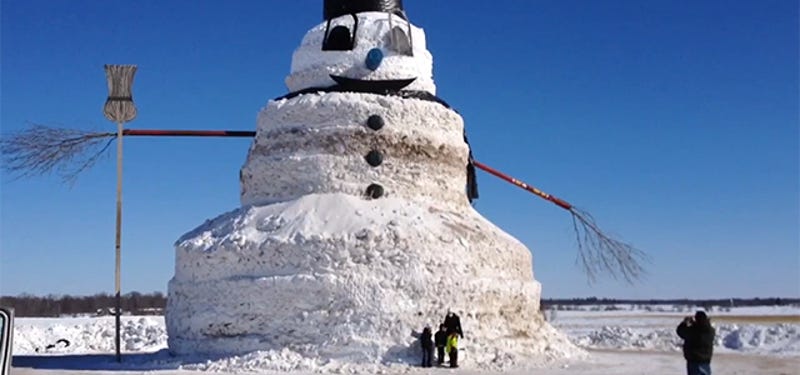 A farmer in Gilman, Minnesota, decided he have had enough of the snow that was ruining his greenhouses, so he decided to start piling it all up into this 50-foot-tall snowman. Because why not.
Japanese-American animator Jimmy Teruaki Murakami was known as the Father of Irish Animation. He directed the films The Snowman and When The Wind Blows, and also worked on Narnia and Christmas Carol movies. And he directed the live-action Battle Beyond the Stars. He died the other day, aged 80.
It's cold. Not bone freezing, icy lung cold (unless it is for you, which, sorry) but it sure as hell ain't bikini season (unless it is for you, which, damn you). And when the cold stays too long, it starts to hurt. Everyday, pain. So how do you make yourself feel good in the Winter? By destroying a snowman in slow…
If you're in a snowy region and looking for an alternative to building Frosty, you might try your hand at this Miyazaki-inspired Snowtoro. The woodland critters taking shelter in his belly are optional.
Superheroes like Batman, Superman, and Spider-Man all have enemies that are immediately familiar to those unversed in comic book minutiae. But Wonder Woman? Sure, she has recurring antagonists like Circe, Cheetah, and Ares, but nobody on par with, say, Lex Luthor or Venom. Here are nine nemeses that would transform a …
Oh, ho, ho. Here's the ugliest little USB desk ornament I've seen to date. Of course, I celebrate the Festival of Lights, but I can still comment on tacky snowmen with pink hat-and-scarf combos. However, if it does float your boat, the snowman actually flashes different colors and the Christmas tree plays a nice…