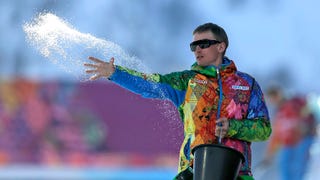 Believe it or not, salt is an incredibly important tool when you're trying to keep a ski mountain running during a warm spell. Unfortunately, the organizers of the Sochi Games did not believe this fact, and late last week, that oversight almost ruined the Olympics.
Every two years, the world takes part in a figurative dance that's been decades in the making. First, it's the iconic passing of the torch. Then, an epic, national-pride-filled opening ceremony. And, finally, it's the moment we've all been waiting for. The holiest and most timeless of Olympic traditions: It's time to…
Team USA bobsledder Johnny Quinn got trapped in his Sochi bathroom while taking a shower when his door jammed and wouldn't open. Luckily, the former NFL football player turned slider had more than enough muscle to breach what looks like a rather flimsy door.
There are about 6,000 Olympians in Sochi and only around 300 medals up for grabs. Do the math; this isn't YMCA soccer and not everyone's taking home an award. But win or lose, these renown athletes still give good Instagram. Here's who you should be following in Sochi now that the games have finally begun:
Everybody gets the gist of the Winter Olympics. Skiing, hockey, figure skating, various sled races—we're all familiar with the classics. But did you know that dogs once competed in the Winter Olympics? Have you heard of the sport that's a cross between hockey and soccer? The Olympics used to be weird, man.
The XXII Olympic Winter Games opening ceremony in Sochi starts Friday morning at 11 a.m. Eastern Time, but it won't be aired in the U.S. until more than eight hours later thanks to NBC's tape-delay policies. They aren't streaming it live online, either, so if you'd like to join the rest of the world in watching the…
Thousands of images are pouring out of Sochi in the lead-up to the Olympics. And things don't look great. There are unfinished buildings, a lack of winter weather, and an abundance of trash. But don't believe every image you see. Like so much of what gets passed on social media these days, a lot of them aren't exactly…
It's almost showtime for Sochi, which may or may not have its shit together by the time the opening ceremonies start. While it's too late for Sochi to change its trajectory, perhaps the 2016 host city could jot down a few tips from what are widely considered to be the most successful Olympics ever: L.A., 1984.
So far, the Sochi Olympics has had its share of difficulties. But there might be a sort of reasonable explanation for that! You see, while Sochi's organizers were letting everything else fall to the wayside, they were busy perfecting the one thing totally out of their control: the weather. Here's how Sochi—which is…
Sochi's in bad shape. With two weeks to go before the most expensive Olympic Games ever, the sleepy city on the Black Sea sort of looks like a giant garbage dump. All it needs now is a giant torch to start a giant tire fire.
In an unusual convergence of Olympic sports, cryptocurrency, and 90s nostalgia, the Jamaican bobsled team is Dogecoin's biggest hero this week. The team turned to the joke currency to raise money for its trip to the Sochi Olympics and, in doing so, raised the Dogecoin to Bitcoin exchange rate by 50 percent in just 12…