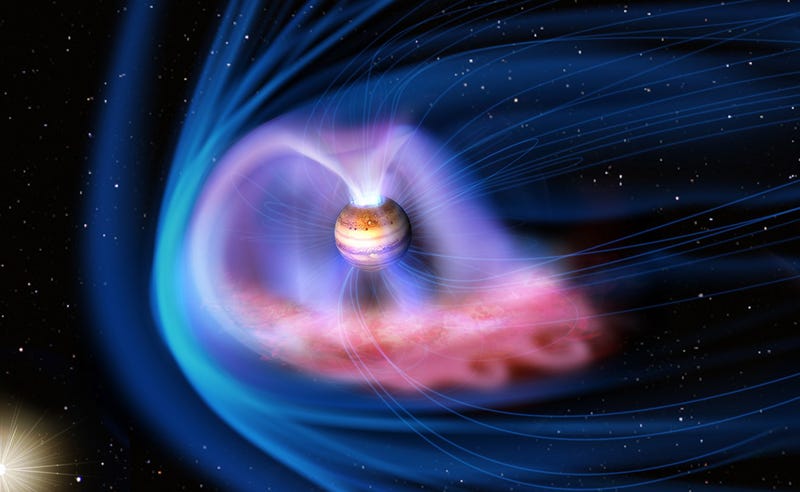 If you were soaring through Jupiter's turbid skies wearing a pair of x-ray goggles, you might get lucky and witness something incredible. Brilliant flashes of light, more luminous and powerful than the Sun, occurring every 26 minutes and stretching as far as the eye can see. That's the essence of a massive solar storm…
A massive solar storm in July 2012 was more intense than thought—and it blasted right through the Earth's orbit. Luckily for us, we were on the other side of the sun, thus missing the chaos completely. But if that storm had hit this beautiful little blue marble in space? "The solar bursts would have enveloped Earth in…
Millions of charged particles are rushing toward earth after a gigantic solar flare on Tuesday. Bad news for NASA's latest mission, but good news for sky-watchers: Those charged particles also collide with the earth's atmosphere to produce the ethereal-looking northern lights.
Worried about an important satellite transmission? The UK's Meteorological Office will begin offering daily space weather forecasts to warn against solar storms that can knock out power grids, radios, and satellite-based tech like GPS. Solar storm activity follows a 11-year cycle, and we're approaching a maximum right…
On January 22, an M8.7 class flare helped cause the biggest solar storm since 2005. Airplanes had to change routes, and the power grid and satellites were affected. It also caused some of the best auroras ever seen.
The largest solar storm since 2005 is now in progress, causing fluctuations on the power grid and disruptions to the Global Positioning System. The ongoing strong proton storm is in full fury. And it's getting stronger; a Coronal Mass Ejection (CME) impact also impacting us, traveling at 1,400 miles per second.