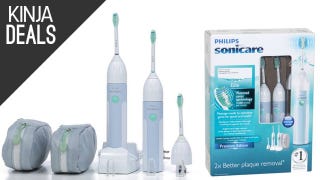 Philips is planning on using its technological know-how gained by making some of the
best electric toothbrushes out there
in making a "massager" called the Warm Intimate Massager designed for couples in the UK. Philips' consumer business is supposedly not doing so hot, but if anyone can design a £89 ($157) marital aid…
Toothbrush-like contraptions that spray water into your teeth holes have been around for years, but Philips' new patent has several innovations that makes sure you don't blast your gums into submission. The spray head has probes that can detect how far away it is from your teeth, ensuring optimum distance.
We brush our own collective teeth with an older model Sonicare, which is why their FlexCare update with UV radiation seemed like a sure bet at improving what's already great. JJ from BBG stuck one in his mouth a couple times for 2 minutes each and found that it's cheaper to replace than before, stronger (with the new…
Our own Charlie White got a chance to fiddle around with that fancy UV Sonicare Flexcare toothbrush we showed you this morning, and he came away impressed.
We love our Sonicare toothbrushes. But how could you improve on a design that's prevented any cavities since we started using it? By adding a UV sanitizer. Peter Pachal at Sci Fi has the scoop.
I'm a little late to the Sonicare party, but hot damn if these aren't great. I just picked one up last week and already my mouth feels cleaner than it's ever been before—even after a dentist's visit. It vibrates faster than Michael J. Fox after a coke binge back when he was alive—wait, what do you mean he's not dead?…