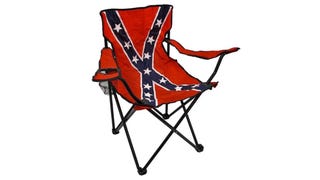 As other retailers dropped similar merchandise, sales of Confederate flag-themed stuff skyrocketed 3000% in 24 hours on Amazon. But Amazon is pulling Confederate flag-themed merchandise from its online stores, a spokesperson confirmed today.
The nation's largest retailer announced today that it will no longer sell any products emblazoned with a Confederate flag. No more t-shirts, no more belt buckles, and no more actual Confederate flags. Walmart sold Confederate flags!?
If you've filed tax returns in South Carolina sometime since 1998, you might be in a little bit of hot water. An unidentified, foreign hacker has gotten into the state's Department of Revenue, pilfering around 3.6 million social security numbers, and 387,000 credit and debit card numbers. In other words, no small…
Oh no! It looks like the Little Mermaid's fishy bottom half was severed from her body and drifted ashore. Paw Nation reports that this creature washed up on South Carolina's Folly Beach.
The gun totin' boys at the Broxton Bridge Plantation hunting ground were planning on having themselves a good old fashioned pigeon hunt. South Carolina's unfortunately named S.H.A.R.K. animal rights group planned to expose them via aerial drone. Guess what happened.
We recently saw how James Cameron built the undersea set for the 1987 filming of The Abyss at the unfinished Cherokee Nuclear Plant outside of Gaffney, South Carolina.
A loose DVD in a pocket saved a South Carolina man from injury after he unwittingly got involved in a firearm fracas outside a fast-food joint. Fire chief Barry McRoy was leaving the Waffle House restaurant at the weekend in the town of Walterboro when he got involved in a gun battle between two men.