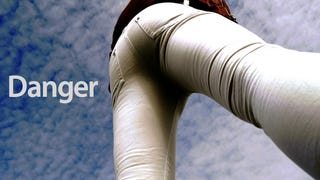 For over a century, every last bit of paper money that's circulated around the United States has come from just one single supplier, Crane & Co. But as The Washington Post found out, that century of loyalty was almost for naught when the 90s came along and brought with it a new menace to American currency; Crane had…
Star Trek creator Gene Roddenberry really wanted us all to wear Spandex in the future. Smelly, smelly Spandex.
Some new Dragonball Evolution images have come out, and they show lots of bright spandex-wearing combat. Shiny! Plus, James Marsters did a photoshoot showing off his swelled head, as Lord Piccolo.
This is not a leaked American Gladiators uniform. It's Nike's design for the US Olympic Track and Field suits. They're made from Nike's proprietarily named (but possibly a poly-nylon blend synthetic) swift materials. Nike claims the socks and arm coverings, with their dimpled surfaces, break up drag to the tune of 12…