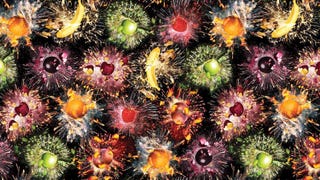 London was the place to be this past New Year's Eve. While you had your ball in New York City and your party in Sydney, London was home to the world's first multi-sensory fireworks display. You could literally taste the celebration.
The Eyejusters aren't the world's first adjustable eyeglasses that can be tweaked without the need for an optometrist. But they take a new approach to the idea that seems to offer some distinct advantages.
Two and a half years on, and the British atomic physicist who invented these optician-less adjustable glasses is now working with the World Bank and the Dow Corning Corporation to supply 200 million pairs to African and Asian schoolchildren.
Despite being steeped in gross-fruitcake tradition, great measures are being taken to ensure that the upcoming royal wedding will take full advantage of every technological convenience of the digital age. Facebook will update us, iTunes will sell the soundtrack, and Anderson Cooper's holographic form will hover above…
Everyone loves a great jet flyover! Except when you can't see the jets, because you're underneath a retractable dome. That's un-retracted. Which is exactly what the Navy spent $450,000 of your tax dollars to do on Sunday. [Washington Post]
First we had maps, which were delicate and unwieldy. Eventually our smartphones started showing us where to go. Someday, connected contact lenses will unobtrusively overlay directions onto our eyeballs. Until then, these GPS-enabled, LED-equipped spectacles will have to do. [Ubergizmo]
Jezebel, our sister site, has some words of appreciation for those members of the finer sex who manage to make corrective eye wear look so good. Girls who wear glasses, I implore you: never get contacts. [Jezebel Image: SashaW]
British Inventor Josh Silver has developer a pair of eyeglasses that are instantly adjustable. They've got a liquid-filled sac in the middle—add more fluid to make the glasses stronger, deflate to weaken them.

Here's something that could be a godsend for the hard of hearing who feel they are not getting their money's worth in the movie theater. A nifty little idea thought up by some clever people at Madrid's Carlos III University for the Spanish Center for Subtitles and Closed Captions, this gadget fixes onto a person's…