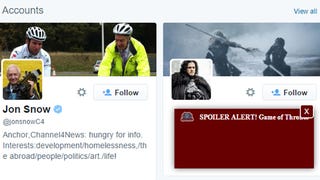 You can't move on the modern-day internet without bumping into a spoiler or two. Whether it's Game of Thrones, The Force Awakens or the ending to Citizen Kane, it's all too easy to trip up over a plot point that you'd rather not know about. If you're desperately trying to stay in the dark about an upcoming movie or…
If you've never seen it, you really should watch the classic 1962 Twilight Zone episode To Serve Man.
The May 31, 1915 Indianapolis Star (Indianapolis, IN) republished a short piece from the Springfield Republican about a playlet that imagines the courtship of tomorrow. Spoiler alert: they ruin the ending of the playlet.