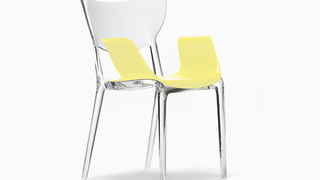 In somewhat of a departure for the lofty French designer, Philipe Starck's new range of furniture is produced in collaboration with a company called TOG—which prides itself on making all of its designs open source.
These Parrots stand at attention, (Monsieur Starck looking on), wirelessly bumping with an iPod perched on top. They're beautiful, but wait until you see the box that brings them to your mansion's loading dock.
Famous designer Philippe Starck recently revealed he felt a certain shame that all the things he'd designed were not essential for living. This turbine, which he designed with the help of generator company Pramac, can theoretically provide a single home with 20-60% of all the electricity it needs. The name, which…
We're always a sucker for designer Philippe Starck's latest creations, and here's a couple of watches he adds to his Fossil collection that have a strange cantilevered look we haven't seen before. Check out those hands, placed on that hanging face at an odd angle, making them look positively peculiar. Well, what would…
If you like famed designer Philippe Starck, you won't be able to resist his latest creation, the Veiled Watch. Its electroplated crystal looks so much like the band that it's hard to tell where one stops and the other begins. First appearing to be merely a stainless steel bracelet, if you look carefully you can see…
That kooky designer Phillipe Starck (or S+arck, for the hoity-toity) is at it again for Fossil Watches, designing another sculpture you wear on your wrist that will tell the time only to those who know how it works.