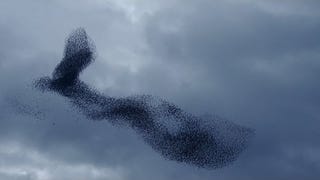 Starling flocks are called "murmurations." The birds fly in massive, tightly-packed groups to fend off predators, find food together, and seek mates. There are several theories as to how they coordinate their flight patterns so smoothly; what's certain is how hypnotic it looks from the ground.
In Focus collected a whole gallery of beautiful starling murmurations photographs, but this is one of those cases where photography can't beat seeing thousands of birds in motion. These videos are breathtaking.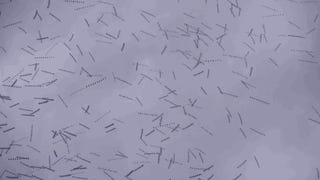 The group behaviors of birds are fascinating to watch, from the swooping arcs of swallows to the incredible murmurations of starlings. These extruded time videos give a bit more form to those movements, tracing the paths of different birds through the sky.
Here are two things you should do immediately. One: watch this. It's a jaw-dropping video of starlings in flight that will straight up give you chills. The swirling cloud of birds is called a "murmuration," and it's just one example of how animals in very large groups can engage in remarkably coordinated collective…