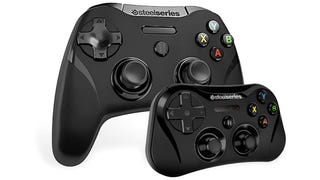 SteelSeries' original Stratus—a compact game controller designed to complement pocket-friendly iOS devices like the iPhone—was revealed just a few months ago at CES. But the company is already rolling out an updated version that will appeal to anyone who felt cramped using the tiny original.
SteelSeries released a couple of new keyboards at CES called the Apex and Apex Raw that are targeted at the gaming community with 22 macro buttons, advanced anti-ghosting hardware, and light-up keys with 16.8 million different colors. But what's particularly neat is the included analyzation software that promises to…
We've long been fans of SteelSeries' PC gaming headsets, and now with the Spectrum 4xb and 5xb they're giving the Xbox 360 crowd something to wrap around their noggins.
Steelseries' 6Gv2 is no frills version of the clacky, all-mechanical, all-tank 7G gaming keyboard, with complete anti-ghosting (you can press many as keys as there on the keyboard simultaneously).
An outlier in PC gaming, SteelSeries' gear won't outglow Chernobyl. It's unassuming and utilitarian, like ThinkPads. They take themselves a little too seriously. But Xai is possibly the best ambidextrous gaming mouse I've ever used, despite the ridiculous HD gimmick.
Did you know it was gaming mouse season? It's the time of year when they come out of their Cheeto-packed burrows to mate. SteelSeries' Xai's mating call is its "high definition" sensor.
SteelSeries' World of Warcraft MMO mouse is officially the most ridiculous gaming mouse I have ever seen. Designed with Blizzard just for WoW gamers (just in time for Wrath of the Lich King), it has 15 programmable buttons. You don't even have that many fingers. And it has flashing disco lights. In 16 million colors.…
Not to be a prick, but I'm a better gamer than probably 80 percent of you. At any given first-person shooter, I will probably kill you more than you kill me, and by a decent margin. The point is, I'm good—but I'm no pro. I've actually always been skeptical about "pro" gaming gear, and the sliver of an edge you might…
Pro gaming gear maker SteelSeries was better known in a former life as Icemat, but they're moving forward under the steelier moniker to break into the mainstream US gaming market. Today they're launching their 7G pro gaming keyboard. It promises to "eliminate 'anti-ghosting'" by supporting as many simultaneous key…