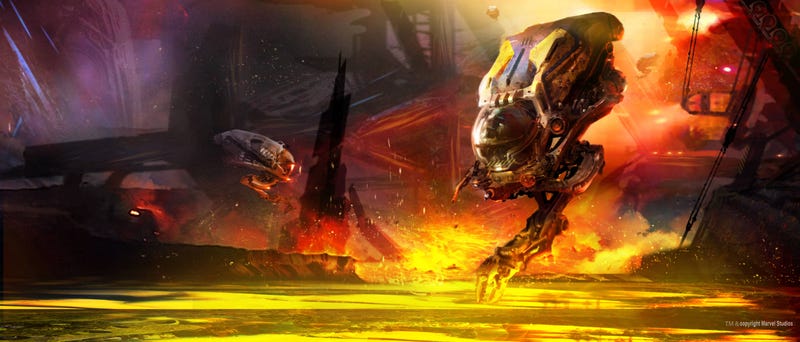 One of the things that was rightly praised so much in Guardians of the Galaxy was the lived in and used look that the universe had. And one of the most used places in the film was Knowhere, the giant alien head turned mining town. Get a better look at the mining pods in Stephan Martiniere concept art.
Stephan Martiniere is one of our all-time favorite science fiction artists, having contributed gorgeous cover art to tons of books. And it turns out he also painted some totally stunning concept art to Marvel's Guardians of the Galaxy. It's basically a space-opera feast.
Anthony Huso's novel The Last Page won plaudits, including a starred review from Kirkus, when it came out in 2010 — but now it has a totally kickass new cover for the trade paperback edition. Not surprisingly, this is the work of artist extraordinaire Stephan Mariniere. Check out the whole thing below.
Summer is coming to a close, and for many of us that means new beginnings. With school right around the corner, hordes of us will be moving into new apartments and houses for the year, and with new digs comes the opportunity to update (or start) your collection of science fiction and fantasy artwork!
Every year, the Best Artist Hugo category is a dazzling sensory overload. How do you choose? For starters, Tor.com has desktop wallpapers by all the nominees, including this Age Of Misrule cover by John Picacio. [Tor.com, registration required]
The big reveal at the end of last year's Knowing was more of a cheesy letdown than a transcendant moment — but concept art by superstar book-cover artist Stephan Martiniere shows us how cool it could have looked. Spoilers below.
Welcome to The Jewels of Aptor, a biweekly column about the intersection of art and the fantastic. Never heard of French artist Stephan Martiniere? Well, you've definitely heard of the projects he's been involved with: Star Wars II and III, The Astronaut's Wife, Red Planet, I, Robot, Virus, and several other SF…