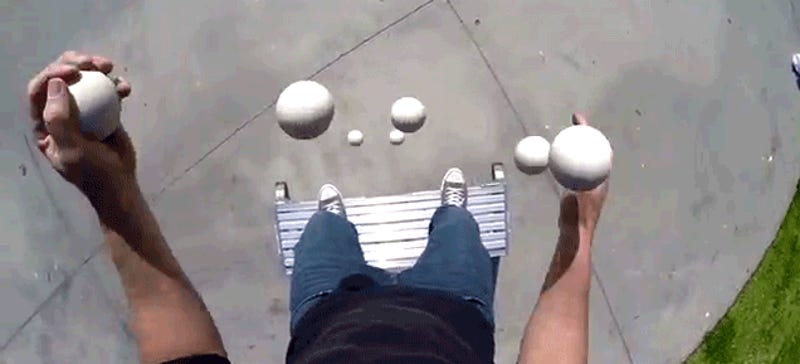 Juggling might be the most fun useless skill to have. People who can't juggle see it as some impossible trick while those who have mastered the skill can see through the flying orb planets as some easy math problem. Just check out the view from a juggler's perspective. For me, a non-juggler, it looks like the ball is…
Not to be left out in the old boys club of the Great Chinese Hacking Scandal of 2013, the Wall Street Journal included themselves with the New York Times as being hacked by Chinese operatives. That's two big name dead tree media organizations getting hacked by China. Who's next?
Ever seen how they draw those forced perspective drawings that look three-dimensional from an specific angle? This time lapse video of Chris Carlson drawing Mario jumping over a NES gamepad shows how it is done. Pretty awesome. [Yababoon via Stuff I Stole via The Daily What]
Street sweepers in the US are big, hulking, monolithic machines that are terribly noisy, slow and occasionally effective. Street sweepers in China? Nothing more than a windmill of brooms tied to a beat up truck. And I'm not sure if it really does anything. [Neatorama]
If our mothers taught us anything, it was that more is always better—especially when it comes to number of wheels in our transportation devices. This Street Surfer, which neither surfs nor belongs on the actual streets, is a bike in the back but a party up front. What do the four wheels allow you to do that one big…
A few more cities like LA, SD, Denver, Houston, and two in the Wang of America were added to Google's Street View. [Google]
Your friends have undoubtedly been clogging up your in-box with funny pictures from Google Maps Street View, but do you know how those pictures were taken? You do now. Google licensed shots from Immersive Media, a company that specializes in 360-degree videos, in order to fill out their coverage in cities like NYC.
A Street Mutt is like any other toy stray dog "hoping that you'll give him a warm home and rescue him from the mean streets." How is one rewarded for such toy philanthropy (other than a sure seat in toy K9 heaven)? Featuring motion sensing, the dogs will make sounds of panting/whimpering/growling as you approach.