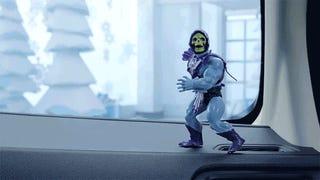 Remember when Stretch Armstrong was supposed to be a live action feature film starring Twilight werewolf Taylor Lautner? But then Lautner's spy movie tanked, as did the other toy-to-film production (Battleship). Now all we have left of Armstrong, the toy movie that never was, is this animatic storyboard.
Matthijs van Heijningen Jr.'s prequel to John Carpenter's The Thing has gone from an April 29, 2011 release date to no release date at all. Universal claims the film's not ready. Sorry, alien head-spider fans.
Not content with playing a pouting werewolf in the Twilight movies and signing on to flesh out CGI cartoon hero Max Steel for the big screen, Taylor Lautner has decided to stretch himself with his latest superheroic role... literally.
Hollywood is still going forward with Brian Grazer's ridiculous Stretch Armstrong movie. The release date for this epic about a superhero who can bend into anything (and fights crabs) is April 15, 2011. The new onslaught of movies that are obviously just ploys to sell crap to children — like the Monopoly movie and the…
Although Stretch was filled with goo that allowed him to perform his Plastic Man tricks, Vac-Man was filled with grainy pieces of "vegetable matter." Once you twisted his body into some malformed shape, you could shove the Vac-Pump into his ear and suck all the air out of him, and he'd stay in whatever shape you'd…