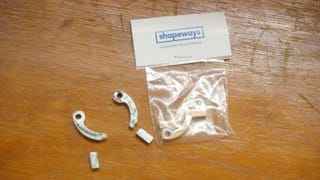 Getting a spare part has got to be the biggest pain in the ass known to the Ikea-loving world. But one man, who goes by dscott4 on Instructables, has stepped up.
Babies can be a liability in a post-apocalyptic world, but Shi Jinsong's designs are here to help. His weaponized cradle, stroller, and baby walker ensure that your infant can pull their weight, even if they aren't old enough to walk.
Intended for nurseries, hospitals and Angelina Jolie, the BabyScatt Evacuation Device is a cart that can safely hold six infants or four toddlers in case of an emergency.
If you're looking to start your kid off with both a tough-guy attitude as well as an air of entitlement, you can't go wrong with the ludicrous Oakley Roddler stroller. While it's a concept that's apparently "inspired" by Oakley, it looks more inspired by a combo of overpriced strollers and military aircraft. …
The stroller has undergone a radical redesign with this concept by designers Dan Levin and Evan Garrett, which places the baby passenger at almost normal eye-height. The design has sprung legs for ride comfort, and the seat unplugs so you can mount it easily on your bike too. Seems like a great idea, and frees the kid…
The manhunt has begun. The mission? Find the guy who built this stroller that just might be the coolest way to get around—for someone who can barely walk, that is. Spotted at Star Wars Celebration IV in Los Angeles, the littlest Imperial-to-be was carted around in his own ATAT. Thingamababy, with the help of…
Here's a versatile conveyance called the trioBike that can function as either a bicycle alone, a stroller, or a combination of the two. You can drop your kids off at day care, leave the stroller there and ride your bicycle away.