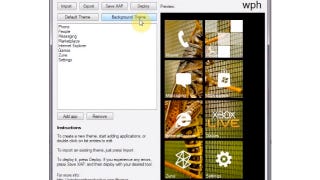 Windows Phone 7 is a beautiful mobile OS precisely because you can't screw it up. Microsoft created something clean and gorgeous, and no phone company can slather their themed dreck all over it. However, if you're a masochist, try this!
Only 3,500 Americans have died in hurricanes since the 1940s thanks to improved warning and evacuation systems. If you end up one of them, you were either in the wrong place at the wrong time, or you were stupid.
Maybe this poor dumb soul was just buying into Apple's marketing hype; maybe he thought the iPad he tried to steal was so thin that nobody would catch him nicking it. Unfortunately for him, he was under tighter surveillance than President Obama.
Sort of stupid: using WWII grenades as bookends. Really stupid: giving one of those grenades to a neighbor, no questions asked. Extremely stupid: accepting said grenade. Maximum stupid: immediately pulling the pin from that grenade. Bomb squad, come on down!
The TSA has its own Twitter account—which could be a great way to inform the scared, angry public (and do damage control). Instead, it's filled with idiotic, tasteless, and downright creepy tweets. Funded by your tax money.
While you're planning your weekend, I want you to consider skipping the ballgame/movie/park. Instead: strap on a helmet, sit on an airbag, and deploy it as your friends watch and laugh. Faceplant? No, no. That's a neckplant you're watching.
I'm pretty sure when I was young, kids this dumb were sent out into the wild and only allowed back into society after they'd done battle with rabid wolves and survived, to ensure accordance with Darwin's law. Anyways, look kid, the crappy, Chinese-made stuffed toys inside, they're not actually worth it-not the…
Because traveling is just more fun when open flames are involved, the BVSA Rocket Bike exists. Created by Jason Broemmel so that he could jump across Islais Creek in San Francisco for a bike rodeo (yes, a bike rodeo. What a country.), this bad boy is powered by highway flares, illegal fireworks, propane, and danger.…
If you're going to put a 2008 calendar on your wall, might as well spend $257,000 on one made of solid gold, right? An opportunistic Tokyo jeweler hops on the soak-the-rich bandwagon for the second year in a row with this 26.3-inch-tall calendar that consists of 13.23 pounds of 24k gold. How ostentatious can you get,…