Netflix has settled with National Association for the Deaf and agreed to caption all its video by 2014. [Ars Technica]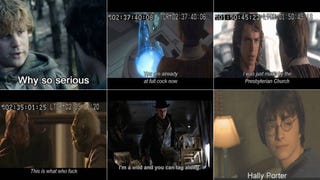 When we saw the subtitles of a bootleg copy of The Avengers, we couldn't believe how outrageous they were. The subtitles butchered the English language to the point that it felt like a whole different movie. Turns out, a lot of bootleg movies have subtitles that bad. Just check these out.
Subtitles make TV far more accessible for deaf people, but new research promises to give people with hearing difficulties the option to subtitle their everyday lives, too, using crowdsourced transcribers.
Swedish vampire movie Let The RIght One In drew much of its disturbing loveliness from its characterization, which in turn came from revealing dialogue. So why does the U.S. DVD version feature lobotomized subtitles?
A screening of The Queen for the hard of hearing turned into a farce after the movie was captioned with some of the most surreal subtitles ever seen. Viewers at the event, organised by Ryde Council in Australia, heard Prince Philip, the monarch's husband, claim that "people removed their heads" as he drove past and,…