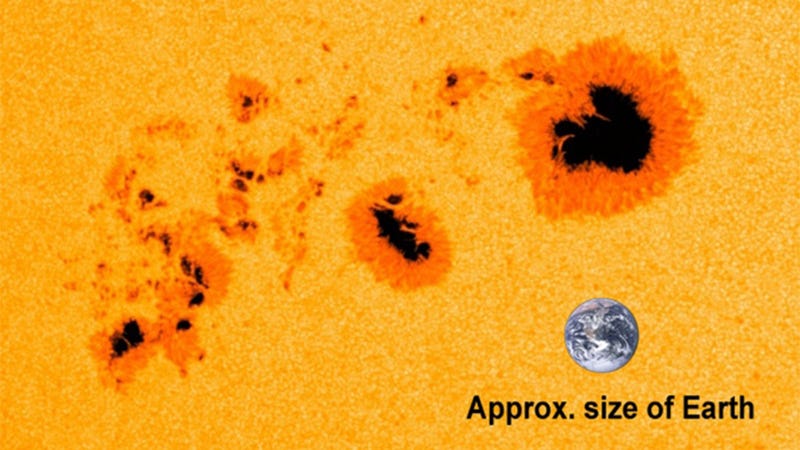 A titanic sunspot—about four times the size of Earth—has appeared on Jan. 1, 2014. Called AR1944, it's the largest sunspot in almost a decade. This image from NASA's Solar Dynamics Observatory shows it compared to our planet. They are so large you can see them with your naked eye.
X-Men: First Class director Matthew Vaughn revealed back in 2011 that Roberto "Sunspot" Da Costa, the Brazilian mutant with the ability to absorb solar energy was a "pain in the ass" to film and too expensive. So he had to be cut. But this newly released concept art shows the mutant that could have been. Plus new Emma…
Sunspot 982 flared up over the weekend, and it looks totally awesome. Not only is it humongous, but it has these two cool-looking dark filaments sticking out of it. Photographer Greg Piepol took this picture using a regular Coronado SolarMax 90 Ha telescope. Another awesome sunspot pic after the jump.
Mark your calendars - It may not feel like it, but last Friday was potentially the start of the end of the world. Friday, you see, saw the identification that a new 11-year solar cycle has started (as Charlie pointed out) and according to many, when solar cycles peak, so does societal and cultural revolution (look here

There's nothing like a bit of LA weirdness for a sunny summer morning. LA-based artist Jed Berk is the brains behind Blubber Bots, rather dreamy autonomous helium blimps that float around the place looking beautiful—rather like me, in fact. And just like us hoo-mans, all they really care about is "food" (represented…