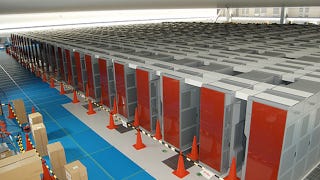 Shut up and sit down, Oak Ridge National Laboratory and Tianjin National Supercomputing Center: you've just had your petaflops handed to you by Japan's Riken Advanced Institute for Computational Science, whose K Computer is the #1 in the world.
Cystic Fibrosis is a hereditary disease that causes excessive buildup of thick mucus in the lungs and digestive tract. Marshall Zhang is an 11th grader from Toronto that may have just cured it.
There's an app for almost everything. Now add one that can run calculations from a supercomputer on a Nexus One phone in real time and without the need for internet connectivity.
The People's Republic has unveiled more details on its quest to phase U.S.-made processors from its microchip diet. China's next supercomputer will run purely on Chinese processors, possibly before the end of this year.
The smoke surrounding Creative's rumored offshoot, ZiiLabs, cleared today at CES, where it was revealed to be a media-application processor developer with a very slick system-on-a-chip, less consumer product than building block for many.