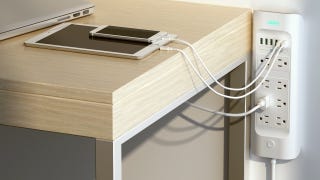 Nobody ever has enough power outlets or USB charging ports around their house, and this Aukey surge protector can solve both problems at once.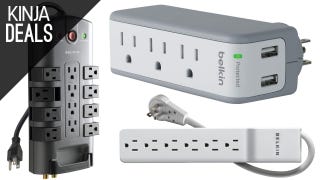 Most of us have more devices than we have plugs in the wall, which is why you'll likely find a surge protector behind most people's televisions and under our desks. However, not all surge protectors are alike, and some even put your gadgets at risk. We talked to an electrician to sort out how to tell the good ones…
It'll be at least a decade before the Bloom Box solves our energy crisis. In the meantime, you're gonna have to turn off your gadgets. This concept uses ambient light to gently remind you which are still sucking power.
If I had a dime for every brilliant powerstrip solution like Jeff Carter's modular "Movable Power" idea that has yet to reach production, I'd be slightly richer than I am now. [Yanko Design]
We've already seen what Bluelounge can do with a minimalist gadget charging station, but today they're tackling a different office obstacle with the CableBox: cords. If you haven't gone mostly wireless yet, this is a convenient way to store them. And on a personal note, this space saver also addresses an illogical…