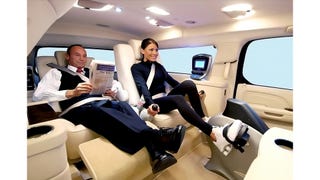 We've all seen these ridiculously-equipped SUVs designed for the one percent before. They're full of stained wood accents, plush leather seating, and everything from big-screen TVs to coffee makers. But this is the first time we've seen one with a full-on exercise machine inside.
Click to viewSure, there's a lot more to test driving the car than the view from the driver's seat. But it's still pretty amazing that Mitsubishi will let you control a 2011 Outlander Sport, on a closed course, from your home.
In May, Toyota stated its intention to invest $50 million in electric car maker Tesla Motors. Today, the companies announced that Tesla will produce an electric version of the Rav4 SUV for Toyota in 2012.
Hands up who had one of those wooden Labyrinths round which you had to maneuver a silver marble without dropping it down a hole or biting your tongue off in the process? Knowing just how powerful a marketing tool nostalgia can be, Nissan has used the concept for the commercial for their new Rogue SUV. [TokyoMango]