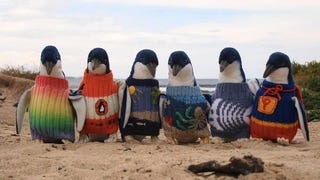 You may have recently seen the heartwarming story of Australia's oldest man (109 years young!) who knits sweaters for penguins. The story is currently making the rounds with an adorable photo purporting to show the grateful penguins of Australia's Phillip Island. The only problem? Those penguins in that particular…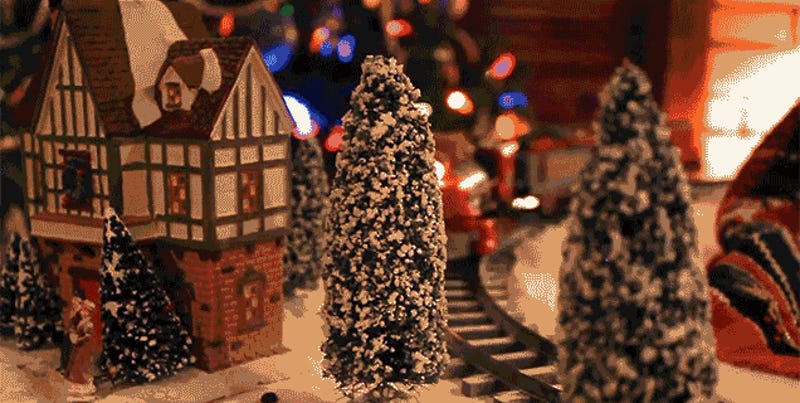 Try as you might this holiday season to find the ugliest Christmas sweater imaginable, you're not going to be able to top YouTube's bd594's creation this year. It's got an ugly argyle pattern, a tacky Christmas tree, blinking lights, and the pièce de résistance?: a working toy train circling the gaudy creation.
It's about time the under-appreciated knitted sweater finally got some respect. Creating intricate patterns by simply zig-zagging and weaving yarn is an artform, and one that has possibly reached its peak with this truly magnificent Street Fighter design.
In recent years, ironically hideous Christmas sweaters have become more and more acceptable, but that doesn't mean you can't gift one to someone they'd actually want to wear. So if you're already shopping for gifts for your grandkids, there's a good chance they'd love this knitted number featuring Adventure Time…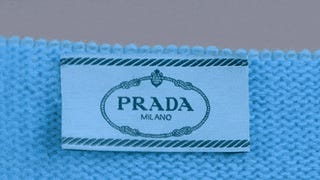 I can't quite describe the feeling I got while watching this simple video from creative misfits Lernert & Sander. They're systematically unwinding beautiful, designer-label knitwear until all that's left is perfect balls of wool. And somehow, it's totally satisfying and strangely unsettling in equal measures.
*These are awesome in the sheer sense that they are so terrible. You would think nothing could make them any less terrible. But the thing is, they all have some unusual, surprising use of technology. It may get lost in the hideousness, but it is definitely there—a little LED, a video display, or some musical number.…
If you thought you'd seen the worst of tacky holiday sweaters, Macy's and Sean John want you to know you ain't seen nothing yet. The two have teamed up to create this monstrosity, which by itself isn't actually so terrible. Until you notice the embedded OLED display on the sleeve letting you play videos or run…
They all look the same to me, but according to German luxury fashion label Vonrosen, Steve Jobs wore one of their $616 cashmere sweaters to Monday's WWDC keynote. Fanboys have flooded the now-offline online shop with orders. [Vonrosen via TechCrunch]
Beth and Brian Willis really loved their dogs Kara and Penny. They were very sad, understandably, when they died. What did they do to remember them? Frame a photo of their beloved pups? No, that's too normal for these two. They decided to make sweaters out of the fur of their dead pets. Yes, I said sweaters out of…