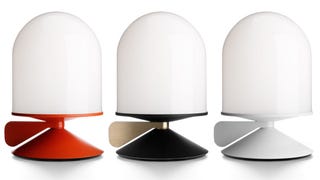 Simple is an understatement when it comes to the Vinge, a fine piece of lamp from Swedish design firm Note Design Studio. Stripped down to its essentials, the fixture puts out a beautifully soft light as a result of its massive white dome. And if the quality of light weren't enough for you, the wing around the base…
Richard Handl, was arrested by the Swedish police for the possession of nuclear material including radium, americium, and uranium. The inquisitive man was creating a nuclear reactor to see if it's possible to split atoms at home." Crazy, but true.
Handl was much less sophisticated than Hahn. The Swedish man may…
With the "biggest ever" piracy raid in Sweden's history—taking down a server with "data equivalent to 16,000 movies"—the Swedish Anti-Piracy Agency says they've killed the source of all The Pirate Bay's pirated material.
Most of us would never need an electrocardiogram embedded into our cellphones to monitor our hearts, but most of us aren't recovering from a heart attack. For those people that are, this Swedish invention that turns any old cellphone into a monitor that can automatically call a doctor or the hospital if your heart…
Koenigsegg has joined the likes of Ferrari by releasing its own line of laptops. Unlike Ferrari, though, Koenigsegg has opted out of having Acer supply the guts to the laptop.