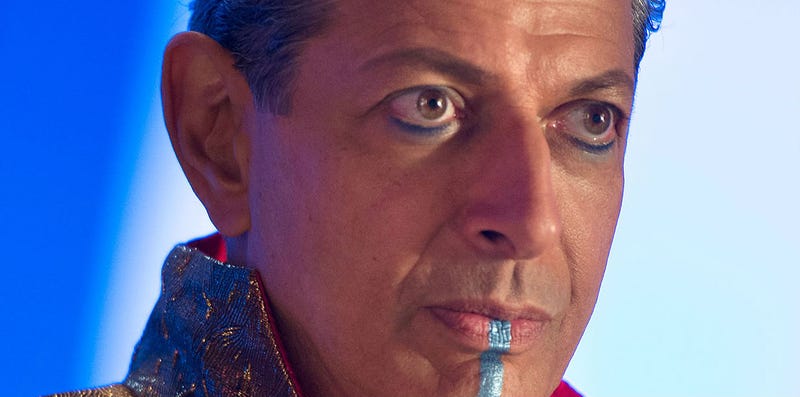 So, in addition to International Women's Day, Marvel has also decided it's Thor: Ragnarok Wednesday. Earlier, Entertainment Weekly posted our first look at the film and now they've revealed even more photos, including the much, much anticipated first look at Jeff Goldblum's cosmic lover of competition, the Grandmaster.
This is the only way to bid adieu to your coworkers.
What We Do in the Shadows is the only vampire mock-doc the world will ever need, because it is hilarious, raunchy, and perfectly self-aware. The werewolf-themed sequel (genius title: We're Wolves) is percolating, and now the rumored TV spin-off is confirmed. But don't get too excited about the latter just yet.
When comedic director Taika Waititi was hired to make the third Thor film, Thor: Ragnarok, most people didn't know what to expect. About 7,000 of those people now know what to expect as Marvel played a video Waititi directed at Comic-Con, showing Thor and Hulk's whereabouts during Captain America: Civil War.
Last year, we named Taika Waititi's What We Do In The Shadows as one of the best genre films of the year. It's the mockumentary story of a group of vampires who live together. Now, not only do we have some more concrete news of a sequel, we know its title.
Now that director Taika Waititi is on board to direct the third Thor film, Thor: Ragnarok, we're starting to hear lots more about the movie. We've heard rumors that Hulk will join Thor, and apparently that's true, because a new report confirms that along with a ton of other info.
We've seen a lot of vampires, and vampire comedy, lately. But Jemaine Clement (Flight of the Conchords) and Taika Waititi (Eagle vs. Shark) tap a whole new vein of humor in their hilarious mockumentary What We Do In The Shadows. We talked to Clement and Waititi about making vampires funny again.