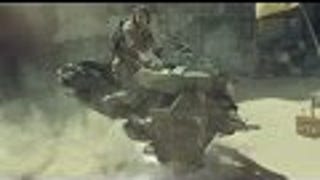 Taylor Kitsch — John Carter of Mars himself — is the greatest sidekick/mentor ever, in this teaser for the new game Call of Duty: Advanced Warfare. This is basically two minutes of power-suit mayhem, with Kitsch saying the weirdest quips ever.
Just in case you're forgotten how sad it is that Disney's first John Carter movie bombed — thanks to a horrific ad campaign more than any fault of the movie's own — star Taylor Kitsch told Variety "the second script was fucking awesome." Sigh.
Every summer, there's at least one huge-budget film that squanders $200 million or so on boring action, unfunny jokes, weird racial stereotypes and bloated special effects sequences. And apparently this summer, it's officially Battleship. The "wet Transformers" movie has come out a whole month early in the U.K., which…
Universal's board game adaptation ditches the round pegs and plastic destroyers of the original Battleship for a high-seas skirmish between the US Navy and aliens. The Wonder-Con panel featured tons of new footage, showing us the movie's aliens and its zany sense of humor. And we heard Rihanna's answer to "Hasta la…
You've seen the brooding first trailer for Andrew Stanton's movie adaptation of Edgar Rice Burrough's Martian war tale John Carter. Now check out the much faster Led Zeppelin war-in-the-stars trailer.
You've seen the amazing trailer for John Carter — now let's pick apart this alien world, image by image. Stare into the eyes of the green alien beasts from Mars, meet the people of Barsoom and behold the teenaged Edgar Rice Burroughs!
Two supporting leads from Wolverine have signed up to star in John Carter Of Mars. Taylor Kitsch will play Carter, a civil war vet who travels to Mars. Lynn Collins will play Dejah Thoris, heir to Mars' helium kingdom. [THR]
Why is Gambit dressed like a 90s stripper? Empire Magazine released a bunch of new X-Men Origins: Wolverine stills, and we got a closer look at Taylor Kitsch as the card dealing, explosion-causing, mutant Gambit. While I agree with this casting, I can't help but draw attention to the terrible wardrobe choice.
Just when you thought you'd heard all the spoilers from the new Wolverine movie, now we find out that Gambit will be joining the cast as well. Taylor Kitsch (yeah, we don't know him either) will be playing the charged-up, card-slinging, cajun-mouthed mutant, and he looks a bit like a young Sawyer from Lost. At this…