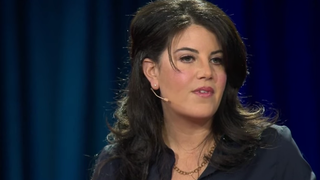 There are few people better-equipped to advocate for people humiliated online than Monica Lewinsky, former White House intern and current queen of my heart. Best-known as the poster girl for public humiliation, Lewinsky has transformed herself into the poster girl for surviving it and examining it.
Is sex as simple as "insert part A into slot B"? Probably not, at least when you consider the entire animal kingdom. The differing motivations of the sexes - at least from an evolutionary perspective - leads to tremendous diversity both in sexual behavior and in anatomy. In her talk at TED Global, Dr. Carin Bondar…
Your favorite apps are there to cater to your every whim. At least until it's time to cater to the whims of a monolith that wants to know your personal details, and is willing to pay top dollar for them. Here's what you really mean to the photo sharing services—and basically everything else—of the world, compliments…
The Onion's TED parody series rolls on, with what may be the best—and most scathing—round yet. The target this time? Social media, a joyous place where ideas are a waste of time, and talent is irrelevant.
Wouldn't it be great if cars ran off of compost? That's not the topic of a TED Talk, but, sadly, that small nugget of an idea is all you would need to to be granted the freedom to pontificate before an audience of naive dreamers at a hokey conference. Welcome to The Onion's first TED Talk parody. It's incredible.…
TED Talks! What was once a proud educational lecture series long ago descended into a smug parade of increasingly ridiculous ideas. They've never been more ripe for skewering. Thank goodness The Onion noticed.
Paleontologist Jack Horner wants a pet dinosaur. (I'm right there with you, Jack.) And according to his TED talk, we're actually getting closer to making Jurassic Park a reality. Thanks to chickens.
The annual TED conference is a bastion of original thinking, its speakers on an edge so cutting they could draw blood. Over at Brain Pickings, they've got a roundup of five of the most environmentally important TED talks of the last several years; including this revolutionary one by cradle-to-cradle design guru…