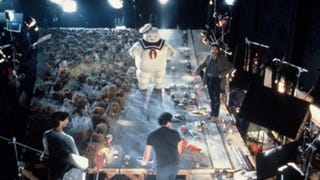 John Bruno is a legend in the world of visual effects, having worked on the first Ghostbusters, Terminator 2: Judgment Day, Batman Returns and countless other films. And even though he helped pioneer computer-generated effects in T2 and The Abyss, he still believes practical effects are usually better. Here's why.
Some movies just drop you in the deep end, and let you figure out what's going on. And some movies talk you through it. Opening voiceovers are a major component of science fiction and fantasy movies (see 50 of them here) and they can be wonderful. Or just god-bananas-awful. But what are the best? And the worst?
Nowadays, when people want to add a sound effect to a movie, they mostly just pull up a digital archive, choose a sound, and drag and drop. But in the pre-digital age, people created sounds using whatever objects were close to hand. Here are the 10 most unusual sources for your favorite sound effects.
It's summer movie season, which means lots of effects-heavy, big budget romps. And it's easy to feel numbed by all this digital overkill. But when visual effects are used well, they can tell the story instead of distracting from it. Just check out our list of 12 movies that use VFX purely as a storytelling tool.
Nowadays, when you go see a big movie, you assume everything is going to be computer animation and greenscreen, and nothing is real. But a lot of the biggest, craziest movie stunts, past and present, have been entirely practical. Here are some of the most complicated stunt sequences that were created in reality.
Why are pre-apocalyptic stories so popular? We get why everyone loves post-apocalyptic worlds: Everybody wants to fantasize about surviving, rebuilding, remaking the world in a new image. But why do people love stories that take place before a horrible disaster?