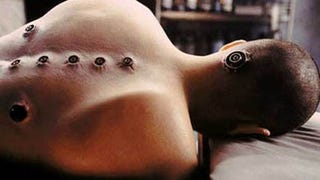 2050. That's the year that you'll plug your brain into a toaster. Intel doesn't know how, precisely, but according to Intel CTO Justin Rattner's recent keynote at the Intel Developer Forum, they're working on it. From Intel's summary of the event:
He said Intel's research labs are already looking at human-machine…
If you thought the Circuit LED sex positions was ridiculous, how about some Terminator intercourse? The above pic is just a sample. Hit the jump for all the delicious Arnold on Arnold skeleton sex pictures.