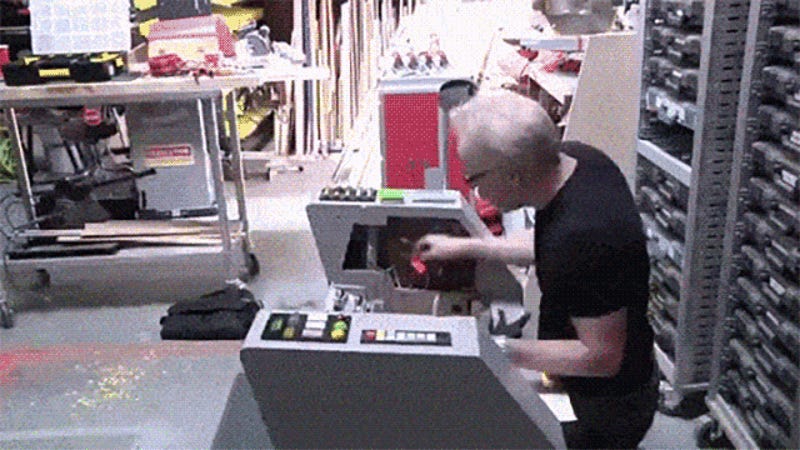 Admit it: you've looked longingly at Captain Kirk's bulky but oddly attractive leather chair and thought "yes, I need that in my life." It's okay. We all have. Even Adam Savage. Especially Adam Savage.

If this hour-long video teaches us anything, it's that Adam Savage could easily be the world's greatest cosplayer if he wanted to be. On a new Tested video as part of "Adam Savage's One Day Builds," the sci-fi-obsessed Savage tackles another ambitious project—Barbarella's Space Rifle.
Battery life is generally the slowest thing to test on a gadget, and it's almost always the toughest to get right. There's just no way to rush it, and there are just so many variables regarding how people use a particular gadget that it's always one of those "your mileage may vary" type of situations. Last week,…
This year I acted as an embedded reporter at Burning Man, a place of extreme temperatures, high winds, and white-out dust storms. The ultra-fine alkaline dust is hell on gear—so it'd seem like a good place to test some rugged stuff out, right?
When Cisco decided last April to kill its Flip camcorder—arguably the most popular product in a category that the Flip created almost single-handedly—everyone concluded than the pocket camcorder market was dead. Everyone was wrong. If you're the least bit interested in shooting casual videos, don't whip out your…
When Apple's iPhone made the jump to eight hours of life (Boom!) fans rejoiced, haters moaned and competitors wept. And shoddy journalists reported "It won't meet claimed battery life!" (Duh.) Other journalists asked How?
Click to view

When the Elite showed up earlier today, I decided to cut to the chase and test the only thing that matters on it: the HDMI output. It's not a new console. Almost everything about the Xbox 360 in white stands true for the Elite: It theoretically doesn't run cooler, or quieter, or faster, and you've…