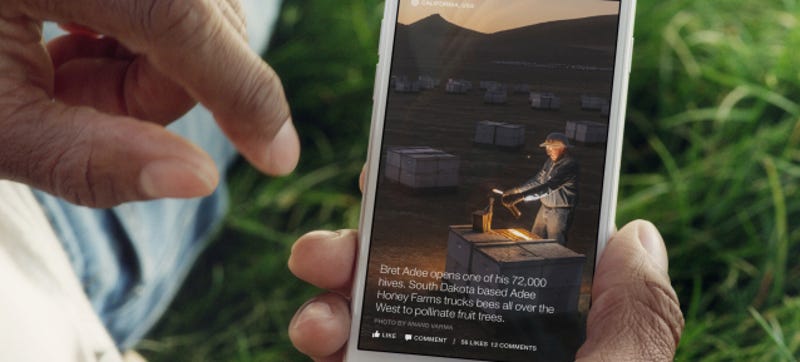 Facebook has just launched a new service called Instant Articles, which allows media organizations to create interactive pieces which are hosted on Facebook's servers and embedded in your news feed.
The Atlantic has a long-form profile of psychologist, comic-book and cosplay enthusiast, and Under the Mask blogger Andrea Letamendi, discussing her background as an academic who slowly allowed her geeky passions to infiltrate her professional life.
Crocodile purses, polar bear rugs, ivory chalices—they're all illegal in the U.S. And no matter where they're confiscated, these pieces ends up in a warehouse outside Denver named the National Wildlife Property Repository, a haunting space filled with the frozen faces of endangered and extinct creatures.
The Atlantic has just digitized the first-person account of Commander E.E. Kintner's experience at the Submarine Thermal Reactor, a story they first published back in January 1959. It's about one of the first nuclear reactors coming to life only a handful of years after Hiroshima and Nagasaki, and it details how…
The Boston Globe's Big Picture, edited by web developer Alan Taylor, is a photography blog we've featured many times here on Gizmodo. It's with good reason too, as the photos there can be at times breathtaking, inspirational, graphic or sad—sometimes all at once.
Though it is fashionable to say the internet is making us stupid, futurist Jamais Cascio just published an article in The Atlantic refuting that idea. In fact, he thinks computer networks and biotech are an evolutionary response to global crisis.
Okay, so we've already decided that the idea that women don't like science fiction is, well, kind of retarded. But that doesn't stop people continuing to offer advice about how to introduce the "fairer" sex to a world of speculative fiction, alien planets and metaphorical explorations into the human condition. The…
Google and the internet are changing the way our brains work, no doubt about it. With the internet at our fingertips, why bother to remember trivial facts when Wikipedia is just a click or two away? In the latest issue of The Atlantic, Nicholas Carr makes a convincing argument about the various ways our obsession…