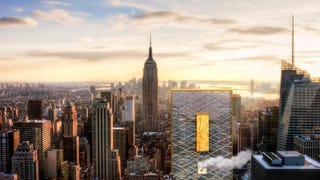 The Old Testament contains one of the oldest architectural briefs in history: A description of the Tabernacle, a portable compound that God describes as his earthly dwelling place. It's a surprisingly specific set of guidelines—from the dimensions of the tent to the dolphin-skin roof—which have been interpreted in…
In the Washington Post today, Reza Aslan debunks five myths about Jesus—he wasn't born in Bethlehem, he was not an only child, etc. But what is this mythbuster not telling you? Scholars say there are at least five more myths about Jesus.
No matter what your beliefs, it's hard to deny that the era in which the Bible takes place was a more, uh, brutal time, filled with plagues, salt pillars, and excessive murders—plus plenty of conflicting moral diktats from the man himself. Now, one designer has built a handy map to help us navigate the text.
News of a possible
Brad Pitt sci-fi version of The Odyssey
got us thinking. No, not about how quickly we could leave the planet in case said movie ever actually came out, but about what other classic literature could be turned into science fiction vanity projects for some of our favorite actors. Join us as we consider…