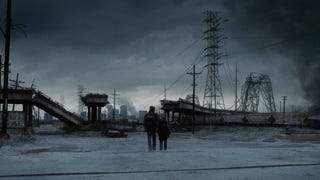 Steven Spielberg's Amblin Entertainment is on a tear of acquiring new content. They just released The BFG, picked up the YA series The Gates and now they've acquired the buzzed-about spec script, The Fall, which sounds like The Road meets War of the Worlds.
The alien invasion movie is a proven subset of the scifi genre. It's ripe for all kinds of interpretations, from pure action like Independence Day, to social fears like Invasions of the Body Snatchers. Now, there are two brand new, very different alien invasion ships are being shopped around Hollywood.
If you've watched the TV spots and trailers for the new Total Recall movie, you've probably noticed a giant metal skyscraper-like elevator, that takes citizens from one side of the planet, to the other. Yes, this movie replaces Mars with an elevator through the center of the Earth, and it's a huge part of the movie.
It's 1915, and an injured stuntman passes time in the hospital by telling steampunky superhero stories to a little girl with a broken arm. The heroes of his stories include Charles Darwin (in search of elusive butterfly), as well as an ex-slave and an explosives expert. As Tarsem Singh's new film The Fall weaves in…
The film version of Alan Moore's graphic novel The League of Extraordinary Gentlemen is probably the worst movie adaptation of all time. It failed to capture the spirit of the graphic novel, didn't stay true to the characters, and devolved into just another vehicle for Sean Connery. But take heart. Check out this…