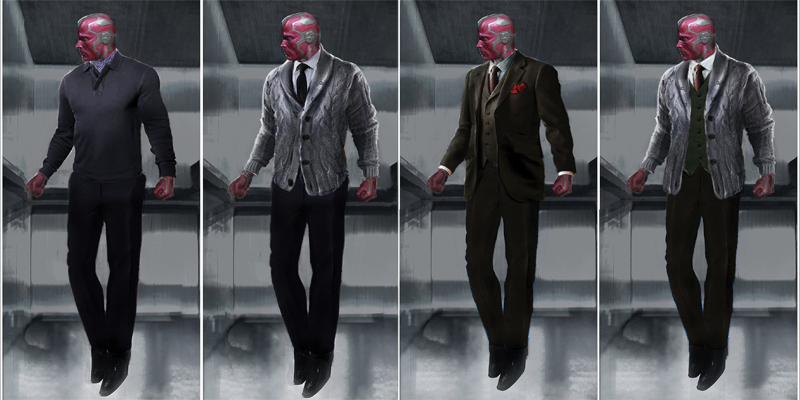 As the leading hype-man of cinematic synthezoids in sweaters, I have to say that Captain America: Civil War has now retroactively become the worst film of 2016, simply for denying us the chance to see Vision to wear a three piece suit or a cardigan on the big screen.
The Vision is one of the biggest surprises to come out of Marvel Comics in years. The company announced the android would get his own comic, just as the character was about to appear in Age of Ultron, so fans expected a light, action-y series to cater to movie fans. The Vision took that preconception and smashed it to…
The latest blockbuster Marvel superhero movie features a burgeoning romance between two unlikely characters. Moviegoers new to the world of the Avengers might have seen the Vision's crush on Wanda Maximoff and thought "aw, cute!" Comics readers familiar with the history of the teammates probably reacted with "oh, no…"…
We're big fans of The Vision's fashion sense here on io9, but what were his best comic book outfits? For the dedicated follower of synthezoid fashion, Brian Cronin over at Comic Book Resources has collected the Vision's finest bits of wardrobe selection throughout his comic book history, and it's fantastic.

The Vision comic has come to the point of no return for its synthezoid hero—a true turning point, in what has been an incredibly haunting and fascinating journey so far. But Marvel's best current comic isn't going to get any less bleak. In fact? It's only going to get darker from here.
Last month, I was completely blindsided by the creepy, compelling opening to The Vision. Tom King and Gabriel Hernandez Walta crafted an incredible first issue that explored the Avenging Android's new family, and how coldly inhuman they were—but the second issue gives them some dark, fascinatingly human problems.
We've only seen a tiny glimpse of The Vision so far, in Avengers: Age of Ultron's SDCC Concept art, but new poster art has revealed our best look at Paul Bettany's android superhero yet.