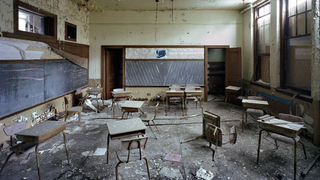 It's only Tuesday, but already this week's news is apocalyptic: the collapse of the West Antarctic Ice Sheet is unstoppable, the UN is debating whether to ban killer robots and the U.S. and Russia are going 1980s-retro with nuclear war games. What should worry us the most? Here's what two experts think.
So a dumbass walks into a gun shop and asks the shop owner if his illegal gun is illegal. Shop owner says yes, and calls the ATF. And that's how the ATF ended up trolling Urbandictionary.
The brewing geek war between magnet magnates seems to be coming to a head. Buckyballs owner Jake Bronstein, who recently threatened Zen Magnets with an "army of lawyers" over their competing product, seems to have a new strategy: Hiding.
Here's a Genius Bar horror story for you: Justin Barry, an apparently disgruntled seventeen year old, walked into a Staten Island Apple Store and typed this message on one of the display machines. He's now facing seven years in prison.
You could see some litigious intent in Tim Cook's recent statements regarding competition, but they weren't direct threats to Palm, or about the Pre. That didn't stop Palm from taking them that way.
What's the #1 threat facing America? According to pundit Stephen Colbert, it's the hateable iPhone. After discovering it has a kill switch to remotely remove malicious apps, the phone went straight to the top of Colbert's Threat Down list—even edging out bears. He says the switch is designed to "kill you", and though…

We're not trying to say that the Today Show/traditional media is fearmongering with this "cellphones are stalking the crap out of this family" story, but we had to change our underwear twice while watching this minute and a half clip.