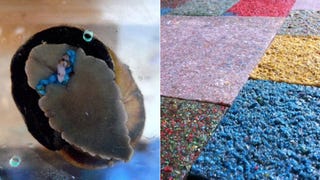 Stepping on snails is nasty—feeling the distinctive crack-and-squelch beneath your foot is all sorts of ugh-ack-yuck-ew. Dutch artist, designer, and scientific researcher Lieske Schreuder found a way to make the experience less visceral but arguably more disgusting, by creating tiles composed of terrestrial mollusc…
E-waste is an environmental nightmare. What if the overflow of outdated tech junk could be put to better use than landfill fodder?
This board of tiles, or Azulejos which is a form of Portugese artwork that involves tilework, is making my brain lose its gray matter. The tile board somehow maintains the same number of tiles even when some individual tiles are removed. How did all the tiles fit in the first place? How does it still fit after…
Even though the iTunes app and the Contacts app are two things the iPhone does fairly well already, Apple's patenting a tile-based view for both. Though, it's just as likely they grab the patent but don't implement this feature. [Patently Apple]
I've spent the morning at Philips Research Labs in Eindhoven, Netherlands, and I've seen some pretty amazing inventions that may not be far away from a shop near you. One of the coolest was these magnetic LED tiles that allow you to build any kind of 2D- or 3D-shaped display by just attaching one to the next. The…
The idea of LED illuminated tiles is a good one in theory, but I'm afraid it'll end up like fiber optic lighting and Bluetooth headsets in that people with no taste will take it over, ruining it for the rest of us. The waterproof tiles snap together Lego style and have a repeating connectivity scheme, much like model…
Looks like those concept building shingles that double as solar-electric cells are getting a real-life counterpart in SRS Energy's solar roof tiles. Designed to look like "normal" roof tiles, they come in active and inactive tile versions, incorporating special connectors so wiring-up is simple.
The Microsoft backed Zumobi browser is now freely available to download for anyone running Windows Mobile 5 or 6 (Blackberry and selected J2ME compatibility will be coming early in the second quarter of 2008.). They have also announced content partnerships with providers such as Amazon.com, MTV Networks, The…
Our first look at Microsoft backed ZenZui came back in March when we discovered a new mobile browser that promises to make "painful loading delays a thing of the past." In a call today with the folks at ZenZui, I learned that they will now and forevermore be known as Zumobi, along with new details about the browser…
My bladder isn't exactly huge, but I've been blessed with never having to wake up to go to the bathroom in the middle of the night (give me another 30 years). But for those who potty in the dark to not wake up their wives, there's Steuler Fleiesen Tiles that embed LED lights into each tile to illuminate your path.
We're going to give this one a "Wow cool," which we rarely give anything. Apparently these tiles act as switches and can be embedded in walls and floors (??). The entire system costs about $4,500 and currently appears in a home of the future called U-LAT made by manufacturer Tau Ceramic. Not sure where the contacts…
b.Lab Italia brings you Living Floor, interactive floor tiles that react to your steps, letting you leave disappearing footprints all over the room. Available in a variety of colors and metallic finishes, these PVC tiles are made up of a non-slip clear covering with an underlying interactive fluid layer. It's like…