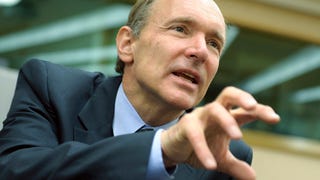 Daddy of the internet Tim Berners-Lee has spoken out in an attempt to enshrine the independence of the world wide web, telling the Guardian that he believes we need an online Magna Carta to protect the rights of its users world wide.
The NSA revelations and general feeling of threat that comes from the knowledge our communications are being watched is worrying Tim Berners-Lee, so much so that he's calling for "bold steps" to be taken to ensure our privacy and right to freedom of expression make it through this era of intense monitoring and…
Yesterday's Olympic opening ceremony was a hallucinatory ode to western history, questionable British music, a giant baby, David Beckham's body, and—amid the athletic sprawl—one of the greatest geeks of all time.
Tim "I helped invent the Internet" Berners-Lee testified before a federal jury earlier this week, tearing into the validity of a key patent Eolas Technologies' was exploiting to sue multiple web companies for $600 million. He must have been persuasive because the court took mere hours to reach its decision.
Happy Birthday, Interwebz! How far you've come. See, if the Internet drew its first breath in the fall of 1969, it took its first steps toward its potential on August 6, 1991. Took awhile there. But it was this first step that was just the beginning.
Sure Frankenstein's lab had that green guy and Dr. Weird's housed a gigantic mecha-bunny—but these labs! Oobject brings us the lairs of science's greatest minds—the researchers who have given the world electricity, television, the Internet, and LSD!
Tim Berners-Lee cites this spot (specifically that plaque on the wall!) at CERN to be the birthplace of the world wide web. Note the series of tubes on the ceiling. Those played a critical role, I understand. [davidgalbraith]
Tim Berners-Lee, the guy who usually gets the cred for inventing the world wide web, says there is one thing he'd do differently if he did it all again: He'd dump the double slash that follows http in web addresses.