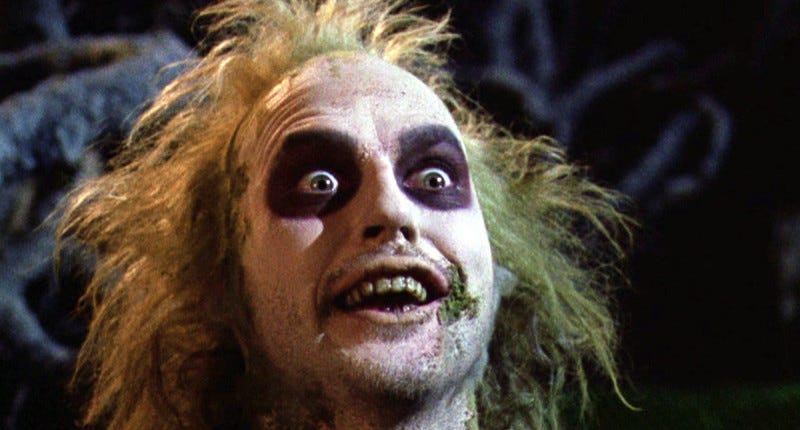 Update: Well, whether you thought the Beetlejuice sequel finally happening was too good to be true or not, it's not true. The source that claimed to speak to Burton is a lying liar, as confirmed by MTV, meaning the sequel continues to languish is cinematic purgatory. As my original article postulated, maybe this is…
If you've succumbed to the lure of the monstrous iPhone 6, you've already decided that a compact, pocket-friendly smartphone isn't for you. So when it comes to protecting your giant investment, why not just go all out and wrap it in this impressive case that's a near perfect replica of the Batmobile from Tim Burton's…
At first you'll probably be a little disappointed to learn that this incredibly-detailed 29-inch long model of the Batmobile used in the Tim Burton-era Batman films isn't fully remote control—you can't drive or steer it. But while it sits there looking beautiful, you can remotely deploy its pop-up machine guns, blast…
All 45 episodes of Pee-Wee's Playhouse, including its Christmas special, are now available on Netflix. The cult show, starring Paul Reubens as a mischievous man-child perpetually clad in an ill-fitting grey suit, is possibly the most bizarre children's program to air on network television, and definitely one of the…
We've covered Annie Leibovitz's fantastical photoshoots before - but her latest starring Amy Adams and Tim Burton slide over the edge of fantasy into full blown creepiness. PUT THE BLUNT IMPLEMENT DOWN, TIM, OH GOD.
Over the weekend Popzilla gallery held a tribute art show to the wonderfully weird works of Tim Burton - including these lovely Silhouettes by artist Sam Carter.
I grew up in one of those typically suburban Colonial Revival homes, all bricks and columns and shutters. It wasn't old, but it was designed to look that way, and in many aspects it was quite convincing. In fact, it looked a lot like the quaint New England cottage owned by Barbara and Adam Maitland. Until they died.
Before Willy Wonka, before Edward Scissorhands, before The Nightmare Before Christmas, and before Beetlejuice, Tim Burton worked at Disney. That doesn't mean his movies were any less bizarre, though. Case and point: his version of Hansel and Gretel.
Artist Yoko imagined what Frozen would have looked like if Tim Burton directed it by re-drawing the characters in a style that Tim Burton would approve of. You know, the huge giant eyes, stick skinny bodies and oversized heads. It works pretty well!
Even the Tim Burton-era Batman films look a little campy compared to Christopher Nolan's take on the Dark Knight. But it's hard to argue that the Batmobile driven by Michael Keaton wasn't iconic, which makes this incredibly detailed model hard to pass up.
Now that Avatar is officially the highest grossing movie of all time, it's inevitable that studios will continue to push 3D as the new frontier of cinema. But actually filming in 3D is prohibitively expensive. Here's how they fake it.