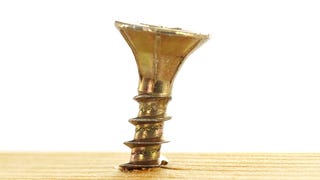 One of the six simple machines, a screw is nothing more than an inclined plane wrapped around a center pole. While today screws come in standard sizes, and typically are tightened by turning clockwise (and loosened by turning counterclockwise), this is a recent invention. A great example of how things that seem simple…
Today I found out that in an effort to scare people away from drinking alcohol, the American government once poisoned certain alcohol supplies; this resulted in the death of over 10,000 American Citizens.
Traditionally, yes, eggnog included raw eggs. However, some countries today, such as the United States, severely restrict the use of raw egg in products, due to health concerns; thus, most commercial eggnog does not include raw eggs. (The FDA actually limits the egg yolk solids in eggnog to less than 1%.) You can,…
Today I found out Ben Franklin's proposal of something like daylight saving time was written as a joke.
Remember your mom sorting through your Halloween candy as a kid, looking for signs of 'tainted' candy laced with poison, needles or razor blades? It turns out, unless she was just using it as an excuse to steal the good candy before you got it, she was wasting her time. You are more likely to get attacked by a…
Perfecting a method of foretelling and predicting the passage of time preoccupied our ancestors from the earliest recorded history. The unending journey of the Sun, Moon and stars across the great expanse of the sky provides clues for numerous methods of marking time, the most obvious to primitive man being the…