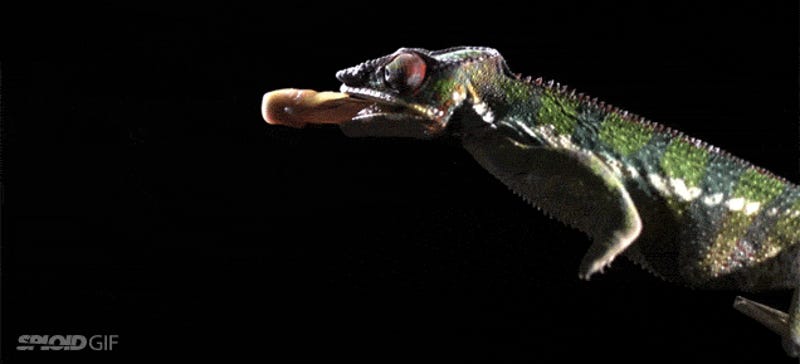 A chameleon's tongue is nearly two times the length of its body and it can shoot out that slimy sticky thing at 41 g, roughly four times the maximum acceleration of a fighter jet, with deadly quick accuracy: its tongue can reach its prey in 0.07 seconds. Basically, it's an insane, superpower-like weapon to have.
I never knew there was such a thin line between being impressive and being disgusting but artist Ani K is toeing it. Or to be more accurate, tongue-ing it. That's because instead of using a paintbrush to paint, Ani K uses his tongue to create his artwork.
Toothbrushes haven't changed much. Sure some fancy tech wiz brushes spin the bristles themselves but at the end of the day, after centuries of use, we still have to hold the damn thing. Not anymore. The T2T is a hands free toothbrush that you slip onto your tongue to do your teeth cleaning. It's the grossest way to be…
Ah, chips. Who doesn't love them? If only—and I'm being nitpicky here—if only they could, I don't know, turn your tongue some ungodly color for no reason. Right? Oh, wait, PepsiCo's Twisties to the rescue!
Hundreds of photos of BSODs arranged into the visage of Steve Ballmer, a stabbing, probing, flicking tongue protruding from the gaping maw in the center. Here's the tongue—oh God—up close, so you can see some of the photos: