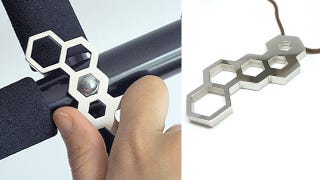 The makers of this necklace say it's a "Honeycomb pendant with cord." But we all know what we're looking at: a set of four wrenches that hangs around your neck. It fits 8, 10, 12, and 14mm bolts. And in my opinion, $55 for a set of four wrenches and a necklace is a pretty good bargain. [Blend Creations]
When it comes to multitools, you can never have enough functions and the Pocket Tool X Piranha really takes that thought to heart. I can't even figure out half the things it's supposed to do. Can you?
Want to branch out a bit from the default Windows Task Manager tool that's probably helping keeping you abreast of the goings on of your PC right this moment? Look no further, for Lifehacker is here with another glorious top five list on that very subject! [Lifehacker]
Cutting open a person for surgery using a plain old scalpel seems pretty barbarian compared to this new cutting tool from Peak. Instead of a sharp metal edge, or even an electrosurgical cutter, the Plasmablade uses pulses of plasma generated around its tip to locally cut and cauterize flesh such as skin, fat and…
There's not much to add to this other than "ha ha, you got penis'ed", but we're somewhat curious as to how this thing went down. Was this a prank from a rival school? Was it self-inflicted? Is this their mascot? (Go Fighting Wangs!) Is it still there? We suppose it's pretty apropos that the school is located on Shaft…
If you're on the verge of deciding between two different, yet equally fine cameras, head over to Flickr's camera finder. After choosing the cameras you're picking between, Flickr will show you either the "most interesting" (or latest, portrait, macro, landscape, action, and recent) photos taken by that model. Of…
If you're anything like us, you have a hard time sleeping at night thanks to the persistent nightmares of being stuck in a car underwater. Blame it on too many viewings of that one episode of BMW Films. Nevertheless, ThinkGeek has a 5-in-1 tool that lets you get out of a jam quickly and easily.
I have a friend...no, a friend of a friend, who hates CRT monitors, TVs, you name it. If it has a cathode ray tube inside, this "friend" goes rabid and reaches for the nearest power tool to give it a proper decontruction and retirement. The FUBAR by Stanley, is the perfect tool for such a job. It's formed around a…