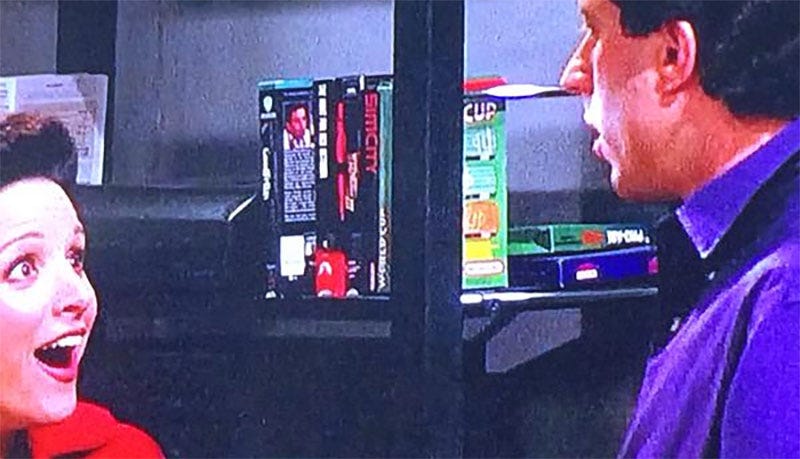 All those years watching Seinfeld, and I never noticed this, so thanks to Tim Rogers for the pic: turns out the media shelf in the background of Jerry's apartment, which is mostly full of his old VHS tapes (like Navy Seals!), is also home to a few NES games.
We constantly get our hopes up for upcoming movies... and then they let us down. It's easy to get sucked into the hype cycle, as people talk up their projects — but sometimes, you can tell just from the way people talk about a film that it's probably not going to work. Here are eight key phrases that usually indicate…
Since the dawn of porn, X-rated movies have tackled science fiction and fantasy themes. We've listed hundreds of science-fictional porn movies in the past. But most of the time, when porn goes scifi, it ventures into "spoof" territory. But not always. Here are some X-rated films that have actual merit as science…
It's a wonderful Sunday evening for some science fiction, don't you think? Luckily, Netflix has just reintroduced into the streaming wild two titles worthy of your attention: Cyborg and Total Recall.
This is the sum of Microsoft researcher Gordon Bell's life since 2001, when he started digitally capturing and logging every possible moment of his life.
Total Recall is probably my all time favorite sci-fi flick. So it's with mixed emotions that I hear Hollywood may be returning to Mars.
We assume you tuned in at 6:15pm EST and caught us live—without sound. (Sorry gang, but this was beta to the max.) In case you didn't, though, you can watch the camcorder version, with a rockin' soundtrack.