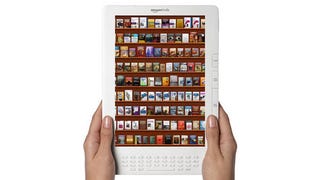 The company that supplies Amazon with its Kindle displays is working on touchscreen electrophoretic panels according to Digitimes. This doesn't necessarily mean Amazon will be using them, considering their recent snap-up of Touchco.
Delta's Touch Sensitive Faucet does one thing and one thing well: It dispenses water when touched with any part of your body, then shuts off when touched again. Not only that, it's also a pretty fantastic faucet.
Targus has been making peripherals since before sliced bread was invented, but as part of its first line of notebook accessories specifically designed for Macs it's come up with two mice that are the only ones to have four-way touch scroll controls for Macs. They're ergonomic, and both have 1200 dpi sensitivity: the…
Scientists in the UK have thought differently about touchpad designs: their system peeks at your fingertips to see what you're touching. It can sense when you're pushing on something and how hard, so everything —even a 3D uneven surface— could be made into a touchpad. Quite why they chose to demo this with a purring…
Aiming to go beyond just sensing the location of your finger on its touchpads and touchscreens, Apple has applied for a patent for a "Force Imaging Input and Device System," which amounts to a spring-like device underneath the touchscreen or touchpad. The pressure-sensitive "force detector" layer would create a…
The technology that makes phones like the LG Prada wiggle is now coming to Nokia phones. A new partnership with developer Immersion opens the doors for Nokia phones to get tactile feedback from touchscreen interfaces using VibeTonz software, so typing on the virtual keyboard feels more like using the real thing.
Click to viewProject Milan is in fact a touch-sensitive table as you guys speculated and we reported earlier. Dubbed "Surface" and five years in the making, it's set to establish a paradigm of what Microsoft calls "surface computers" which use touch as the sole method of input.
Siren, formally Rio (the founding fathers of the MP3 player, in my opinion), has announced a couple MP3 players at CES this year including the very beautiful Siren V. The outside of this player is the first metal-in-plastic player that has touch sensitive buttons. Upon tapping magical blue buttons light up and can be…
Designed much like the flashlights the Star Trek crew used on The Next Generation—except more hubcappy—the Indium flashlight is both neat and neat looking. The six LEDs are controled by a touch-sensitive switch that can switch the lights to full, half, and strobe mode.
Illuminated, red touch-sensitive buttons are apparently "in" right now, and Maxfield's is joining the party with its Max-Sin Touch, a portable digital audio player that looks suspiciously like M-Cody's M-20. Capable of playing MP3, WMA (DRM'd or not) and Ogg Vorbis files, the Max-Sin Touch is based around 1GB of flash…

Until we can have screens that roll up and fit into our pockets, this smart fabric portable keyboard will have to do. Developed by Brit company Eleksen Ltd., it's a 2.4-ounce Bluetooth keyboard made out of a special touch-sensitive cloth material that s water repellent—not that you would really be wanting to use it…