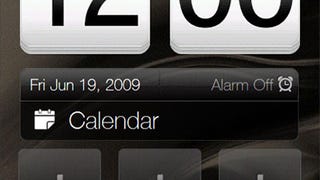 We've got some screenshots of the new version of HTC's TouchFLO 3D, which should be debuting on the Firestone. HTC's gone ever deeper into WinMo's UI, including every settings screen. Basically, you'll hardly know which OS you're using.
Not sure why anybody would take on this project, but several modders at the xda-developers forum have gotten
Sony Ericsson's Xperia X1
panel interface to work on . From the look of it, X1 installs, launches and works without much of a speed difference, and the panel interface actually seems nicer on the Touch HD's…
HTC has always known their biggest weakness: Windows Mobile. They've done their best to hide the aged interface in glossy costumes and bolster performance, but they can only do so much—the OS is slow, buggy and can drain battery life on certain hardware. Luckily, Windows Mobile responds well to per-device…
I'm still working on the full review, but I wanted to give everyone an update on that performance fix that was released last week for the HTC Touch Diamond. I installed the new ROM (it was easy, just run the executable on your PC), and now TouchFLO is noticeably faster. It's still not instant, but it's definitely…
HTC's installing an updated ROM on all the Touch Diamonds they're shiping out in Europe now, which hopefully will fix the sluggish TouchFLO 3D issues we noticed in our preliminary hands on. We're trying to track down some kinda download link so current owners can get in on the slightly-less-slow action, and we'll…
Boy Genius has details on "Manilla," the code name for HTC's TouchFLO replacement interface coming on some of their Windows Mobile 6.1 smartphones. There's the improved home screen (above), as well as the improved dialer screens, skinning of the browser and skinning of the comm manager. Our intern tells us that a…
HTC's TouchFLO UI was great because it was one of the first "skin Windows Mobile to make it usable" applications—even if it isn't quite as good as PointUI. This supposed TouchFlo 2.0 upgrade looks much improved, even if it is still early in the development stage. If you're feeling brave you can actually try and…
We're not sure if this HTC Pharos 3470 Windows Mobile Smartphone will actually be called the Pharos when it launches—especially since it gets people confused with Pharos, who also make GPS Windows Mobile smartphones—but this spy shot looks interesting. The phone has a 200MHz OMAP processor, 128MB RAM, 2.8-inch QVGA…
Sprint launched its version of the HTC Touch today, aimed not at business users (that most of the Windows Mobile platform devices target) but at consumers. The hope is that the flip-happy TouchFlo skin over the more familiar WM6 interface will draw in people with iPhone envy. The Touch will cost $250 with a two-year…
A HoFo user got his hands on an AT&T Tilt, also known as an HTC Kaiser or the HTC TyTN II, and took a few shots of its exterior hardware buttons and its fairly standard Windows Mobile 6 UI. From the shots, you can't tell whether the phone has the TouchFlo topscreen UI like the standard HTC TyTN II does, but the…
HTC's Touch, the touchscreen (TouchFLO) phone from Windows Mobile maker HTC will be launching in Taiwan first, and then making its US debut sometime before the end of the year. – Jason Chen
When's the last time you saw anyone make the slightest bit of innovation on the input scheme for Windows Mobile? Never? We thought so. But that's just what HTC's done with their TouchFLO app on the new Touch smartphone. TouchFLO actually lets you use the pads of your fingers—not just the tip like a stylus—to control…
If our early morning
HTC Touch
reveal left you hanging for more on this fancy finger-touch phone, look no further. Well, a little further. Here's some coverage of the Touch from around the webernet.