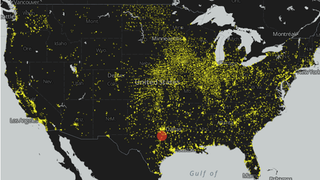 This map shows the 9,000 chemical plants across the U.S. where, according to the Environmental Protection Agency, a "catastrophic chemical release" could occur. It helps us answer an unsavory question—whether you live near a potentially dangerous chemical plant.
A toxic and deadly week in landscape reads. We learn how, remarkably, tourist poop is flown by helicopter out of national parks, how Silicon Valley exports toxic waste all over the country, how poison lurks in our old televisions, and how the land can just fall away in the form of Washington's deadly mudslide.
You know what I hate about eating? The constant conversation on whether this food is good for you or bad for you. It seems to change everyday! New reports say this will cause cancer. Other reports say the same thing can prevent it. Even awful food that contains arsenic and other toxic chemicals can be somehow…
In 2010, a lake of caustic, poison mud from an aluminum manufacturing operation spilled out and destroyed a nearby town, along with much of the native life. Humans were killed and burned, property destroyed. And it still looks like Mars.
Marijuana, hue notwithstanding, is not exactly new school green. In fact, it's the worst drug for the environment. Marijuana growers use $5 billion worth of electricity to power lightbulbs, fans, dehumidifiers and whatever else it takes to grow weed. That's 1% of the national electricity consumption.
Click to view
60 Minutes correspondent Scott Pelley went to Guiyi, China to document the lives of Chinese e-waste workers there. He was able to get footage of what these pits, which process much of the toxic electronic scrap we in the West throw away, look like—despite being jumped by angry e-waste lot owners and…
Greenpeace is dead set on giving Apple and Steve Jobs an inferiority complex. With one hand, the environmental group
patted Apple on the head
after the unveiling of its . With the other hand, however, it managed to knock Apple down a peg or two for still not doing enough to save the environment. "Compared to where…