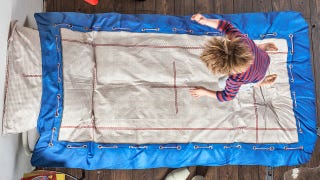 Through the eyes of an adult, a bed is a spot to rest, a refuge for sleep, and a place to recharge before work the next day. But to a kid, a bed really only has one useful purpose: as a trampoline. And since jumping on the bed is rarely allowed, Snurk made this wonderful matching duvet and pillowcase set that turns…
Why is the International Olympic Committee wasting its time on introducing new events like Kitesurfing at the 2016 games in Rio when any sport played on this 170-foot long trampoline would be far more entertaining to watch?
As far as dangerous playthings go, trampolines rank right up there with lawn darts and three-wheel ATVs. But for whatever reason they've managed to avoid banishment, at least until this questionable modular trampoline system starts spraining ankles and snapping wrists.