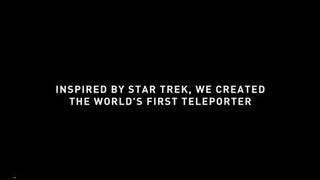 Teleportation is perhaps the dreamiest sci-fi invention ever imagined so it's no surprise that when a Star Trek-style Transporter pops up in a middle of a mall and promises real life teleportation, a crowd forms to ooh and ahh and secretly hope that it's real (no matter how unreal it is). Illusionist Scott Penrose…
For the casual seafarer with space constraints, Better Outdoors has come up with a creative, if perhaps terrifying, solution to a problem most of us never knew we had in the first place. Say hello to the Transporter: a box-like boat that conveniently folds into a box-like box for your space-saving, travel needs.
Late last night saw one of our favorite companies spring quite the surprise when Slim Devices announced that it had been bought by peripherals monster Logitech.
Scientists in Copenhagen took one more step toward the Star Trek transporter, figuring out how to teleport groups of billions of atoms from one place to another using light, quantum mechanics, magnetism and a concept they call "entanglement." Professor Eugene Polzik and his team managed to move an object about 18…
Slim Devices founder Sean Adams gave Gizmodo a video tour of his high-end streaming audio player that we first told you about in July. The overview is up top. Videos about the specific features after the jump...
—Noah Robischon
Alright sound geeks, put on your bibs before you read any further. Slim Devices is soon to release this $1999 Mega-Super-Duper networked streamer that is chock full of audiophile goodness. The Transporter – no affiliation with crappy films – is loaded with what they claim is the best digital analog converter…