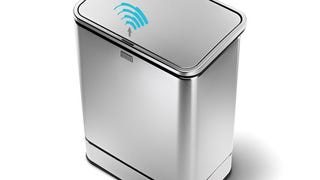 I have a trash can in my kitchen with an automatic sensor. It's great most of the time, but I have to walk widely around it, lest my ass continuously trigger the lid. But now Simplehuman has multi-sense. MULTI-SENSE.
After successfully following these instructions to make a paper classic Macintosh trashcan, please don't use the resulting paper classic Macintosh trashcan to trash any failed paper classic Macintosh trashcans. The paradox can destroy the Universe. Thank you. [Codeco via Designboom]
It's a dustpan! It's a bin! It's DustPan+Bin! A smart and pretty idea for those who live in a small apartment and don't have a vacuum cleaner. [Lufdesign via Core77]
Don't get me wrong, I'm all for recycling, but it's the process I'm not so thrilled about. For bottles and newspapers things are fairly simple, but there is a whole gray area that makes knowing what is appropriate for recycling more complicated. The Barcode Trashcan offers a high-tech solution that utilizes the…
Who knew a minor variation in the shape of the top of an ordinary trash can could be so useful? There's usually a trashcan next the toilet, so Snowtone Design figured it might be nice to put that receptacle to use during the times you're not throwing stuff in it. Just drag it around in front of you as you're doing…
The reason Japanese people are so short is because space comes at such a premium (it's true, we read it on Wikipedia). This adjustable trash can, however, is great for small rooms that need small cans, but can adjust upwards to accomodate large rooms as well. This way, instead of throwing out your garbage when the bin…

The Wastecan i.Master Wesco is definitely much smarter than your trash can. It features an invisible infrared sensor at the top that senses when your hand is near, filled with stinky trash, and automatically opens the lid without the need for involvement from you other hand or your foot for that matter.
There's something satisfying about this trash can PC case mod from a resourceful Chinese enthusiast, putting the PC right where it belongs. I can think of many a long night where I wanted to do much worse to the PCs I've encountered. Not that we're Mac fanboys or anything, but you never see a Mac shoehorned into a…