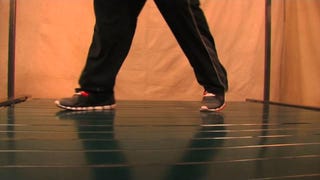 The Oculus Rift is so close to making our Star Trek holodeck dreams a reality. The only catch is that since you're tethered with cables, you're not really free to physically walk around while wearing it. So far the solutions to this problem have been less than impressive, but the Infinadeck—a treadmill that lets you…
There's a recent fitness trend that sees people switching from a traditional desk to working on a treadmill to maximize their physical activity. The problem is that at anything more vigorous than a casual stride, it's difficult to read a static display while on a treadmill. At least until researchers at Purdue…
Standing around in an awkward set of motion tracking video goggles while tethered a computer makes virtual reality feel anything but real. You need to be able to move around to really get the virtual experience, which this bizarre sliding platform lets you do—kind of.
Treadmill-desks aren't new. But the $4900 Sit-to-Walkstation is the first we've seen that has a space for a chair, giving you the option to exercise while you work or, once again, stay lazy. [Product Page via BoingBoing]
The Stephen Colbert treadmill looks tiny, but there isn't a lot of space to go around up there on the ISS. How does this work?
This handy invention is a combination of a treadmill and a bed. It automatically props your fat ass up and puts your feet on a treadmill. Apparently, you can exercise this way. Wait, what? Call me crazy, but moving your feet while sitting down isn't a form of exercise. It certainly isn't jogging. If you're sitting on…
We've seen water resistance treadmills before, but those were for people. What about for dogs? Clearly, a water resistance treadmill for dogs is an absolute necessity in this day and age. I mean, how else can you possibly keep your dog fit and trim while also instilling a lifelong fear of water and enclosed spaces?…
If you're too lazy to walk a few steps but still want your dog to get a workout, this Fit Fur Life $1400 dog treadmill lets you get some vicarious exercise, courtesy of Fido's four feet. We're not quite understanding why this is so expensive (other than its maker calling it "the best dog treadmill in the world"),…
Our special friends over at Kotaku found this little gem: a treadmill game controller called the GameRunner. The faster you run, the more you get to play! I mean, this is obviously one of the better memes to come out of the gaming industry in years. I've already seen an exercycle with a few buttons so you can play…